Express Doner Ltd. has been set up in Hong Kong to bring quality, halal and MSG free meat and other food products to the Hong Kong's vast restaurant market. Established in 2009, the company has been importing and supplying high quality European meat products to many restaurants, local fast food chains, private clubs, hotels, banks and universities. During the last 5 years business has been growing steadily on the demand of high quality European produced halal food. Today the company is supplying food products over 30 restaurants and establishments all around Hong Kong including some 5 star hotels.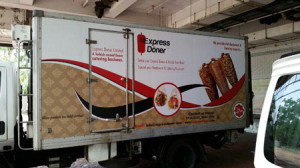 After a thorough supplier research in Europe, the company has decided to work with a Europe supplier that manufactures the meat and other products according to the specifications given by Express Doner. All the products are EU certified and manufactured under strict EU regulations.
Lorry – AThe products are imported as frozen in refrigerated containers. The frozen products are stored in the Cold Storage Facility in Hong Kong and delivered to the customers in refrigerated trucks. The company takes utmost care for keeping the quality of the food and makes sure that the health and safety status of the products are met with the Food Health and Safety Regulations.